Global SCENESSE® demand drives increased CLINUVEL revenues, earnings
CLINUVEL Financial Performance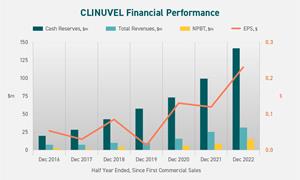 MELBOURNE, Australia, Feb. 24, 2023 (GLOBE NEWSWIRE) —
Executive summary
Positive Results in the Half Year to 31 December 2022
19% increase in revenues from clinical demand for SCENESSE® (afamelanotide 16mg).
94% increase in NPAT; 67% increase in EBIT.
Net assets increased by 11%; 16% growth in cash to $140.7 million since the start of the reporting period.
Increases year on year compared to six months to 31/12/21, unless stated otherwise.
All figures reported in Australian dollars, $.
| | | | |
| --- | --- | --- | --- |
|   | 31 December 2022 | 31 December 2021 | Change |
| Revenues, $ | 29,355,042 | 24,631,266 | +19.2% |
| Profit after tax, $ | 11,387,665 | 5,870,380 | +93.9% |
| Basic Earnings per share, $ | 0.230 | 0.119 | +93.3% |
| Cash, $ | 140,703,376 |   | +15.8%* |
*Increase from 30 June 2022.
For the six months ended 31 December 2022, CLINUVEL is pleased to record a 19% increase in its revenues, and 94% increase in net earnings after tax, or $11.39 million.
"Today's excellent figures are the result of years of focus and financial discipline, while operationally facilitating supply of SCENESSE® to patients in Europe and the USA," CLINUVEL's Chief Financial Officer, Mr Darren Keamy said.
"The number of prescriptions for, patients receiving, and expert centres administering the therapy have all increased over the period.
"The performance exceeds our expectations, thereby precipitating the financial basis to expand our portfolio of melanocortins, diversify markets, and become a self-sufficient company.
"Working within our set budgets, we are now focused on bettering our results for the financial year end. It is an exciting moment in the history of the Company."
Alongside the revenue result, CLINUVEL contained its expenses during the half year period to achieve a negligible rise of 1%, furthering its balance sheet. As of 31 December, CLINUVEL held cash and cash equivalents of over $140 million, a 16% increase from 30 June, with total assets above $160 million.
"We have actively managed CLINUVEL's commercial programs, translating to a steady increase in liquid assets, as well as earnings per share," Mr Keamy said.
"In parallel, we have made necessary investments to advance clinical research and new product development, while placing emphasis on cost control. There is not much debate around prudent fiscal management in a climate of macroeconomic uncertainty, therefore we keep a balance between strengthening the Group's commercial basis and expansion. Most of all, I am pleased for patients and our shareholders, as our financial record and stability provides options for pursuing our long-term objectives."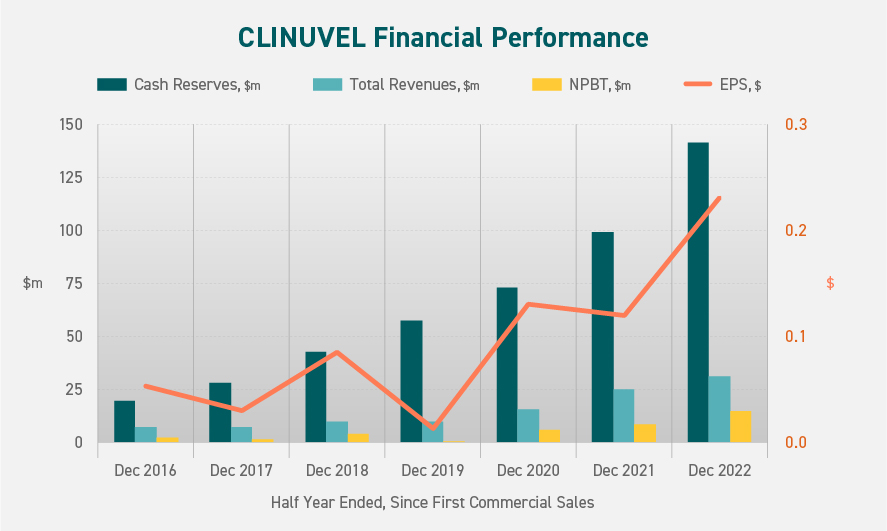 Financial performance
The 67% increase in net profit before tax was the fourteenth consecutive half year profit since the commencement of CLINUVEL's commercial operations in June 2016. The 94% rise in net profit after tax achieved is the highest recorded by the Group for a December half year.
CLINUVEL is on track to remain within its projected overall expenditures of $175 million for the five financial years ending June 2025, excluding investments of a capital nature. Half-way along this timeline, total expenditures have reached approximately 41% of the Group's target.
The Company maintained a balance sheet free from external borrowings, with a rise in total assets of 11.4% to $160.3 million. CLINUVEL will report its full financial year results in August 2023.
CLINUVEL's Appendix 4D Half Yearly Report is available on the Company's website, www.clinuvel.com.
About CLINUVEL PHARMACEUTICALS LIMITED
CLINUVEL (ASX: CUV; ADR LEVEL 1: CLVLY; BÖRSE FRANKFURT: UR9) is a global specialty pharmaceutical group focused on developing and commercialising treatments for patients with genetic, metabolic, systemic, and life-threatening, acute disorders, as well as healthcare solutions for the general population. As pioneers in photomedicine and the family of melanocortin peptides, CLINUVEL's research and development has led to innovative treatments for patient populations with a clinical need for systemic photoprotection, DNA repair, repigmentation and acute or life-threatening conditions who lack alternatives.
CLINUVEL's lead therapy, SCENESSE® (afamelanotide 16mg), is approved for commercial distribution in Europe, the USA, Israel and Australia as the world's first systemic photoprotective drug for the prevention of phototoxicity (anaphylactoid reactions and burns) in adult patients with erythropoietic protoporphyria (EPP). Headquartered in Melbourne, Australia, CLINUVEL has operations in Europe, Singapore and the USA. For more information, please go to https://www.clinuvel.com.
SCENESSE®, PRÉNUMBRA®, and NEURACTHEL® are registered trademarks of CLINUVEL.
Authorised for ASX release by the Board of Directors of CLINUVEL PHARMACEUTICALS LTD
Media Enquiries
Monsoon Communications
Mr Rudi Michelson, 61 411 402 737, [email protected]
Head of Investor Relations
Mr Malcolm Bull, CLINUVEL PHARMACEUTICALS LTD
Investor Enquiries
https://www.clinuvel.com/investors/contact-us
Forward-Looking Statements
This release contains forward-looking statements, which reflect the current beliefs and expectations of CLINUVEL's management. Please see the full disclaimer on CLINUVEL's website.
www.clinuvel.com
Level 11, 535 Bourke Street, Melbourne, Victoria, Australia, 3000, T +61 3 9660 4900, F +61 3 9660
A photo accompanying this announcement is available at https://www.globenewswire.com/NewsRoom/AttachmentNg/5b11aca8-a262-48df-8297-ddb65974ca1c