Smile Health Orthodontics (SHO) Now Offering In-Office Spectralase Diode Laser Treatment
Treatments are comfortable, highly effective and with a fast recovery
Patient undergoing gingival recontouring laser treatment with Spectralase at Smile Health Orthodontics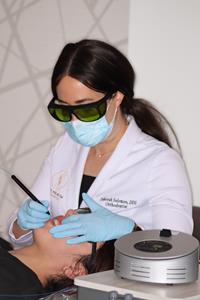 BEVERLY HILLS, Calif., March 06, 2023 (GLOBE NEWSWIRE) — Smile Health Orthodontics has announced that it is now offering patients in-office Spectralase Diode Laser treatment.
Built by renowned laser physicist Dr. George Bekov, PhD, the Spectralase Diode Laser provides an array of benefits for patients receiving orthodontic care with Dr. Deborah Solomon. Common treatments include: exposing impacted teeth to allow eruption of these teeth that are ankylosed or stuck to the bone, reducing gum swelling around orthodontic appliances to improve oral hygiene, releasing heavy muscular attachments that put tension on adjacent teeth and could cause space re-opening or gum recession, and reshaping gum tissue to improve esthetics of smiles. 
Treatments are highly effective and have a fast recovery. They are also relatively painless, as the Spectralase Diode Laser is designed with an "Ultra Pulse" mode (200 millisecond pulses per second) to maximize patient comfort.
"In the past, patients who needed exposure of an impacted tooth or gum recontouring treatment had to be referred out to an oral surgeon or periodontist. This was costly, time consuming, inconvenient, and in some cases did not achieve the desired results," commented Smile Health Orthodontics' founder Dr. Deborah Solomon. "The Spectralase Diode Laser is a total game-changer. Our patients do not have to go to a different office, the treatment is much more affordable, the experience is comfortable, and most importantly the results are outstanding."  
Added Dr. Solomon, who is an ABO Board Certified Orthodontist: "While there are many highly effective Spectralase Diode Laser applications in orthodontics, one of the most impressive is recontouring the gum line after by exposing more of the teeth, which makes them look longer and more symmetrical. This significantly enhances smile esthetics. Our patients are amazed and thrilled with the results!"  
Patients who wish to learn more about Smile Health Orthodontics' Spectralase Diode Laser treatment options are invited to visit the practice's website at www.shosmile.com or call 310.926.6220.
About Smile Health Orthodontics and Dr. Deborah Solomon
Dr. Deborah Solomon practiced general dentistry a number of years ago while on active duty in the US Air Force. She pursued her passion for enhancing people's smile and health, and became a board-certified orthodontist and dentofacial orthopedist specialist. She enjoys seeing her patients in her boutique-style orthodontic offices conveniently located in Beverly Hills and Los Angeles, where she offers a variety of treatment options. Dr. Deborah Solomon truly cares about her patients, and posts fun educational and informative videos on social media. Learn more at www.shosmile.com
Contact:
Dr. Deborah Solomon
office@shosmile.com
A photo accompanying this announcement is available at https://www.globenewswire.com/NewsRoom/AttachmentNg/183f8c00-bfe7-44bb-881f-3fa993325020