Chiara Family Foundation Winter Classic hockey game raises $300,000 in support of the MUHC Foundation
Chiara Family Foundation Winter Classic hockey game raises $300,000 in support of the MUHC Foundation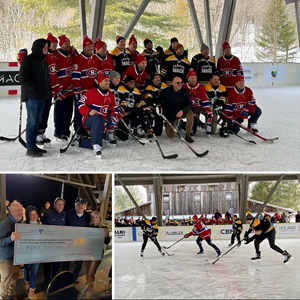 The game between Montreal Canadiens alumni and a team of generous donors is supporting infectious disease research at the McGill University Health Centre (MUHC).
MONTREAL, March 09, 2023 (GLOBE NEWSWIRE) — A cold, crisp day in February was the scene of a unique fundraiser in support of the MUHC Foundation.
Eleven Montreal Canadiens alumni went head-to-head with a team of generous donors in a friendly outdoor game in support of infectious disease research at the MUHC. Conceived by MUHC Foundation board member Vincent Chiara, the event was a truly Canadian experience.
"It was an honour to host hockey legends and members of the business community for a good cause. The festive atmosphere and friendly competition made it a unique and wonderful experience. I want to thank our generous partners who participated in this event and made it a success."
—Vincent Chiara, President, Groupe Mach; Member, MUHC Foundation Board of Directors
Coached by hockey legend Yvon Lambert, the Canadiens alumni team featured NHL greats Patrice Brisebois, Steve Begin, Jesse Belanger, Francis Bouillon, Mathieu Dandenault, Normand Dupont, Gaston Gingras, Sergio Momesso, Oleg Petrov and Richard Sevigny. Their opponents were members of Quebec's business community, who donated to the MUHC Foundation for the chance to play against former NHL stars.
The MUHC Foundation is incredibly grateful to the Chiara family for hosting this exciting event.
"We are absolutely blown away by the Chiara family's dedication to supporting the MUHC Foundation. The energy of the event and the enthusiasm of all involved was inspiring. I'm grateful to Vincent and his family for raising such a transformative sum in support of infectious disease research."
—Julie Quenneville, President and CEO, MUHC Foundation
The $300,000 raised will support the McGill Interdisciplinary Initiative in Infection and Immunity (MI4), which brings together over 250 researchers and 5,000 staff to find solutions to infectious diseases like tuberculosis, COVID-19, Lyme disease and more.
The fundraiser complements the Chiara Family Foundation's extraordinary $1.4 million donation to the MUHC Foundation in support of the McGill Antimicrobial Resistance Centre. This affiliate of MI4 is finding solutions to antimicrobial resistance, a growing threat in which antibiotics, disinfectants and antimicrobial products are becoming less effective.
For all involved, the true winners are the patients who will one day benefit from new innovations in infectious disease medicine.
About the McGill University Health Centre Foundation
The McGill University Health Centre (MUHC) Foundation raises funds to support excellence in patient care, research and teaching at the McGill University Health Centre, one of the top university hospitals in Canada. Our Dream Big Campaign to change the course of lives and medicine is raising millions of dollars to solve humanity's deadliest puzzles: infectious diseases; end cancer as a life-threatening illness; fix broken hearts through innovative cardiac care; detect the silent killers—ovarian and endometrial cancers—early; create the best skilled health care teams in Canada; and much more. We are rallying our entire community to solve the world's most complex health care challenges. https://muhcfoundation.com
Tarah Schwartz
Vice-President, Communications & Marketing
McGill University Health Centre Foundation
tarah.schwartz@muhc.mcgill.ca
Kelly Albert
Senior Communications Officer
McGill University Health Centre Foundation
kelly.albert@muhc.mcgill.ca
A photo accompanying this announcement is available at https://www.globenewswire.com/NewsRoom/AttachmentNg/6d1035d8-dd5c-4fc3-8754-b16d9ec79fa0